It's no surprise that Los Cabos offers some of the best dining experiences in the world. Whether it's your anniversary or a first-date, we have made a list of some of the best date-night restaurants it has to offer. From great ambiance to creative menus, it'll be hard to choose just one!
1. Agua at One & Only Palmilla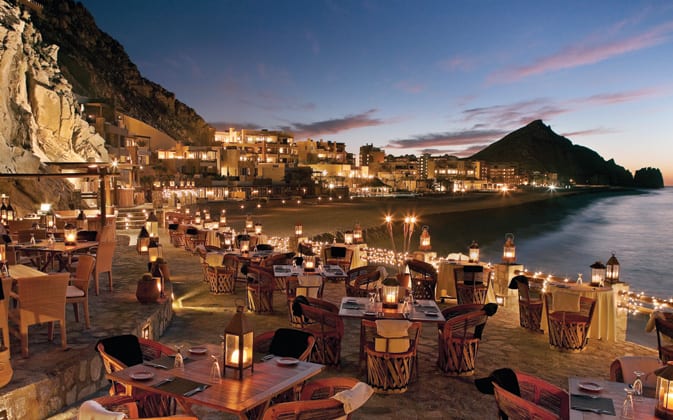 Tucked into seaside cliffs overlooking the Pacific, you'll find El Farallón in Los Cabos. It has the rustic appearance of a coastal seafood shop. If you are lucky enough to get it, there is the 'ocean-front table' where diners can enjoy fresh sea waves and breezes. Its menu boasts of fresh daily catches from local fishermen, and visitors can even see the piles of fresh seafood on mounds of shaved ice waiting to be ordered. An old-fashioned scale weighs each catch, and each day there is a new 'catch of the day.' Local experts are available to help answer questions since making a decision between each delicious option can often be difficult here! El Farallón is open for dinner, 7:00pm-11:00pm, and they are often books weeks in advance.
2. El Farallon Restaurant at Capella Pedregal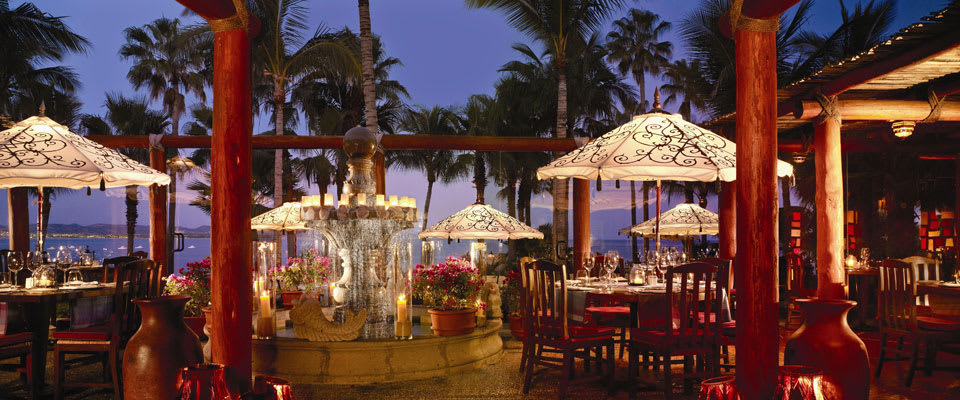 Agua restaurant is one of Cabo's most famous dining experiences located at One & Only Palmilla. Located on a bluff, overlooking the Sea of Cortez, the al fresco, palapa-style restaurant serves "Mexiterranean" cuisine, a hybrid of Mediterranean dishes with Mexican influences. Musical entertainment is a constant here, and creates a great date atmosphere located by the hotel's infinity pool. The delicious food can be enjoyed by the fountain courtyard or inside for a romantic fireplace feel. To further the romance, reserve the Moonlight Table for two overlooking the San Jose coastline. Tables can be limited and should be reserved in advance.
3. Don Manuel's at Capella Pedregal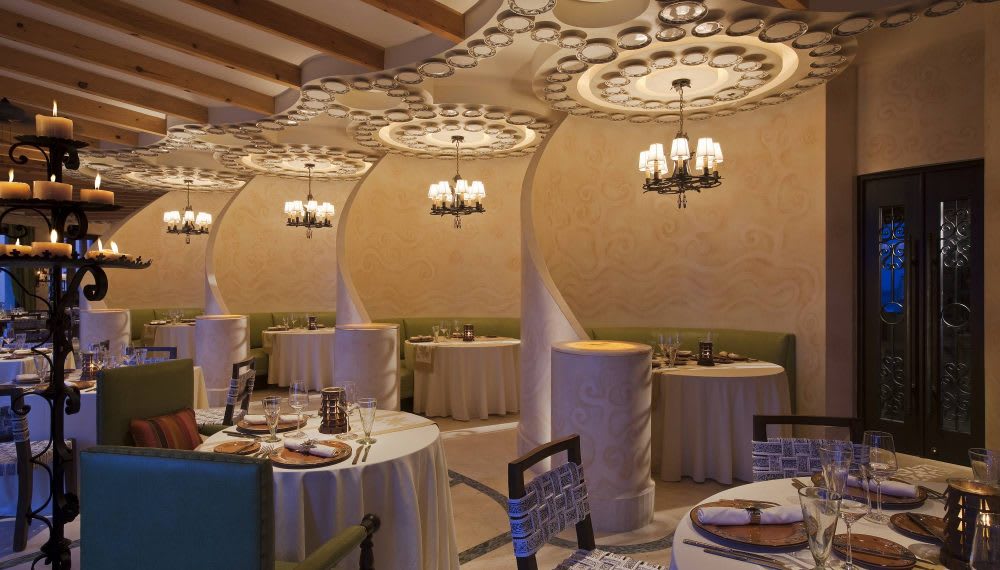 The fine dining experience at Don Manuel's features cuisine based on local, organic produce grown specifically for their restaurant and prepared using old world techniques. A truly unique aspect of this restaurant at Capella Pedregal is its kitchen, "Su Cocina", where its doors are always open to its quests. Guests can choose to experience Don Manuel's private dining room, a private booth, the patio overlooking the Pacific Ocean or a romantic dinner on the beach for two.
4. Cocina del Mar, Signature Restaurant at Esperanza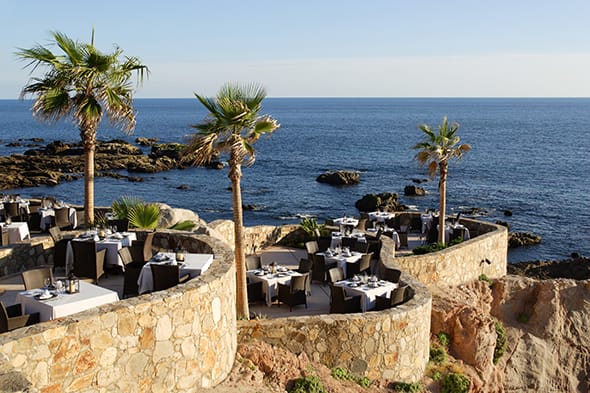 Cocina del Mar is well-known for its upscale and wide variety of fresh fish and seafood and uses fresh ingredients with its creative presentations. The "Cocina del Mar" culinary team offers diners an international experience. Its executive Chef was born in Argentina and creates cuisine influenced by several styles and traditions of North, Central, and South America by utilizing creative and contemporary techniques. Vegetarian and vegan options are always available in their three to four course menu. Less available, however, is their prized cliff-side seating.
5. Maca by Casianos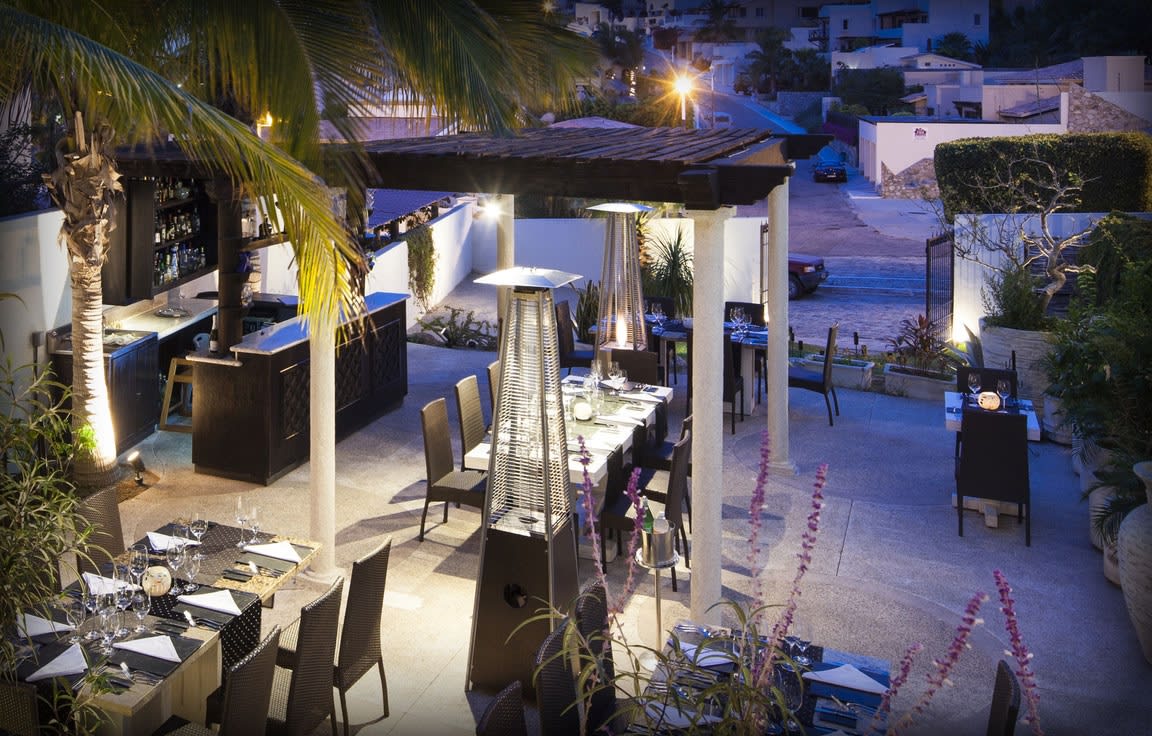 According to their website, Casianos is known for their "No Menu… No Rules… Spontaneous Cuisine…". Chef Casiano Reyes' approach to food originates from his desire to not be limited by low quality ingredients or menu items. He focuses on tailoring each individual dish. When you visit, the chef and the team will explain you what he is cooking that day. That will depend on the fresh produce he was able to get at the organic market, the catch of the day, and so forth. Everything involved in your dinner is handpicked by the chef himself, ensuring that you will enjoy the best products that the Baja has to offer. Featured is a 3 or 5 Course tasting menu. If you're not in the neighborhood, you can also visit them in their San Jose location.
6. The Restaurant at Las Ventanas al Paraíso
http://www.rosewoodhotels.com/en/las-ventanas-los-cabos/dining/the-restaurant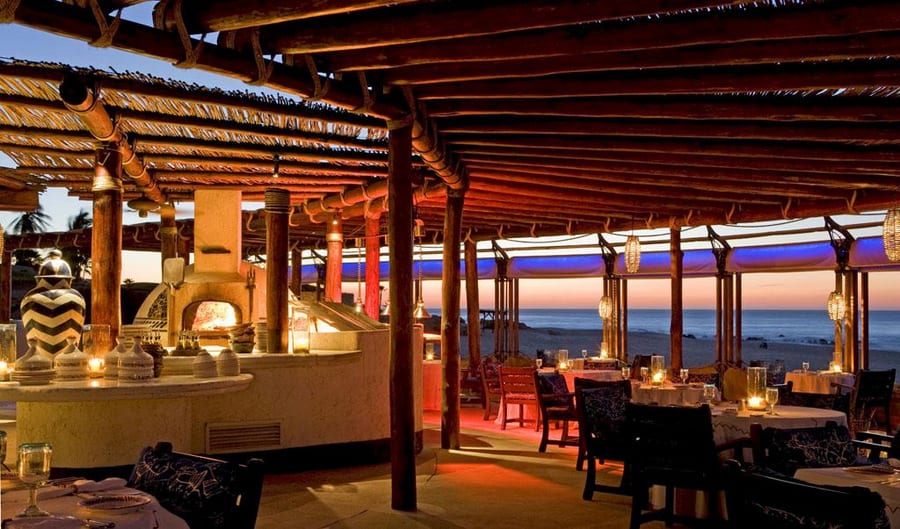 The Restaurant's acclaimed locally sourced menu is rooted in authenticity. Known for coining the term "Baja-Mediterranean" cuisine, The Restaurant has extended the Baja cuisine narrative with a menu inspired by different regions found all over Mexico. Known for its sophistication and elegance in a relaxed atmosphere, The Restaurant showcases hand-painted Mexican crockery and other decorative flare throughout. Also undeniable is the view of the Sea of Cortez. It is safe to say that the atmosphere is amazing.
7. Doc Wine & Bar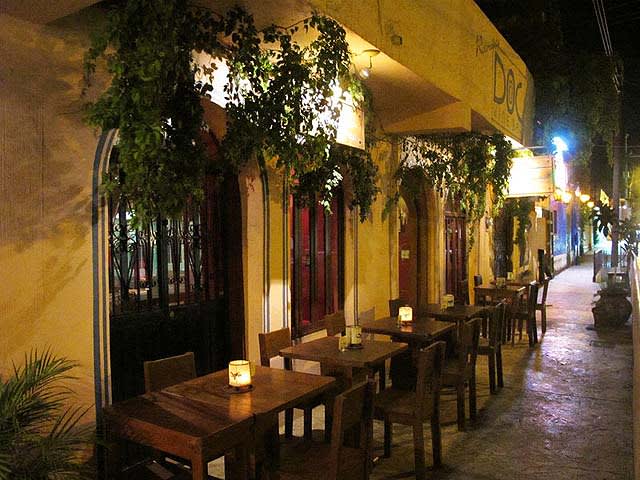 DOC Wine Bar is an authentic Italian restaurant located in Cabo San Lucas. Its small and warm space provides an intimate experience with its decor consisting of candles, old Italian posters, rustic chalkboards, and more. The menu changes regularly, always including fresh, prepared to order Italian cuisine. Many their ingredients are brought in from organic farms in bordering Los Cabos towns. With no surprise, salads and pastas are the house specialty and are always central to their menu each day. Steaks, seafood, and other fresh products are available, as well as their purely Italian and Mexican wine selections. Variety in the wines range and the service is just as pleasant as the atmosphere.
8. Salvatore's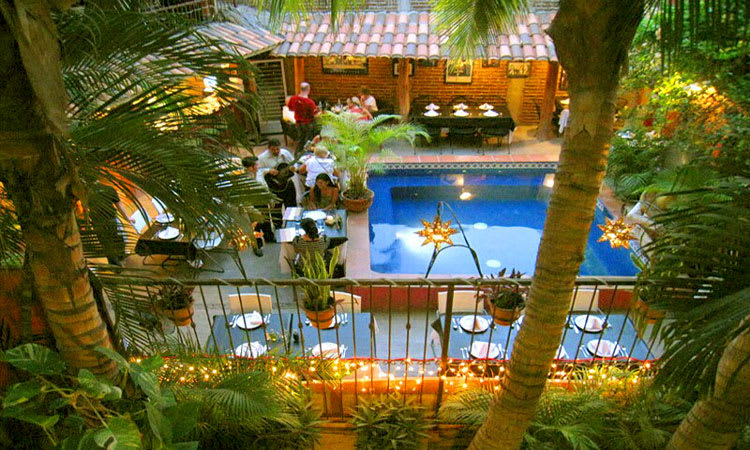 Salvatore's is also known for extraordinary Italian cuisine. They boast generous portions, a pleasant atmosphere and renowned service. Located right near the pool at the Siesta Suites Hotel, Salvatore's is a family-run restaurant in the heart of downtown Cabo San Lucas. Mussels in marinara sauce, calamari, chicken parmigiana, osso buco, and lasagna are just some of the many classic Italian dishes Salvatore's specializes in. Prices are reasonable, and guests rave about their flan for dessert. With downtown nightlife nearby, this is a great dinner spot!
9. Pitahayas at the Sheraton Hacienda del Mar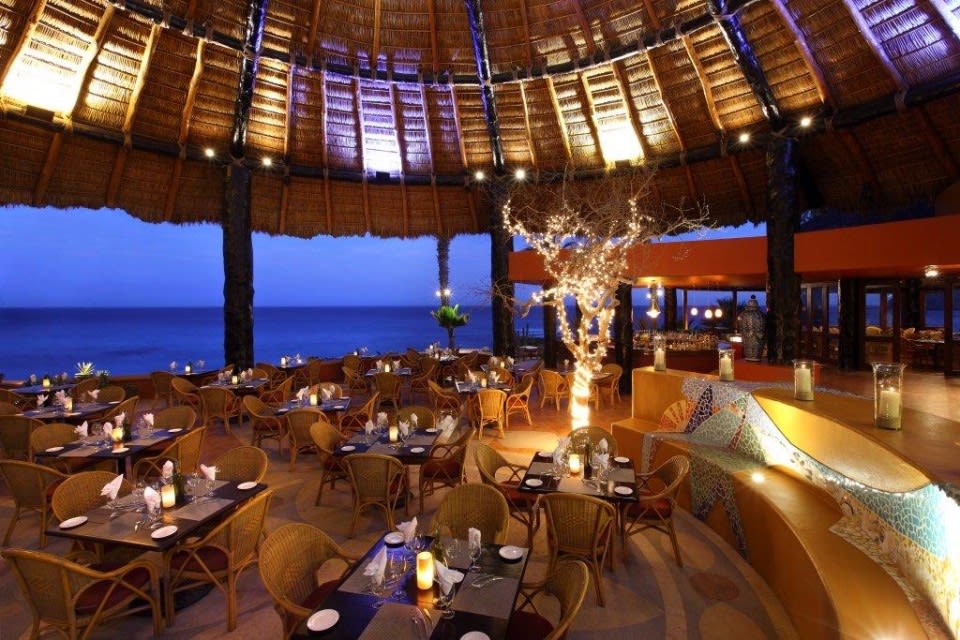 The Pitahayas blends flavors that range from the Pacific Rim to dishes all the way from the Far East making its menu impeccably creative and delicious. The Pitahayas has a reputation for world-class cuisine in its relaxing environment and has earned awards for 12 consecutive years. In 1999, the restaurant received the prestigious 5 Star Diamond Award from the American Academy of Hospitality Sciences. A couple dishes you can enjoy are a fish trilogy with mango papaya relish or marinated Atlantic salmon with lobster alfredo sauce. Their wine cellar features more than 400 labels with an extensive list of international spirits as well. It is safe to say that drinks are always on-hand here. Live music can be heard on certain nights, providing a relaxing soundtrack as the sun sets over the ocean.
10. La Panga Antigua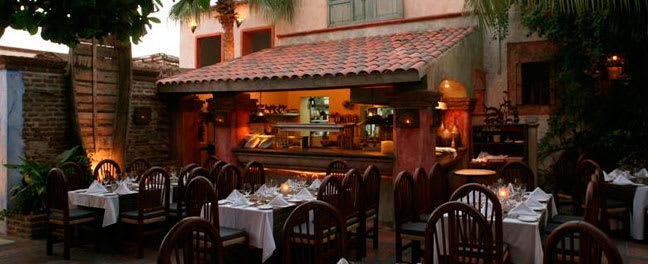 La Panga Antigua offers contemporary Mexican cuisine with a specialty in seafood and features a colonial feel in its decor. The five-star, regional seafood cuisine is prepared by award winning Chef and co-owner, Jacobo Turquie, who graduated from New York's 'The Culinary Institute of America'. La Panga Antigua is open daily from 12:00pm – 10:00pm in San Jose del Cabo.
11.Sunset da Mona Lisa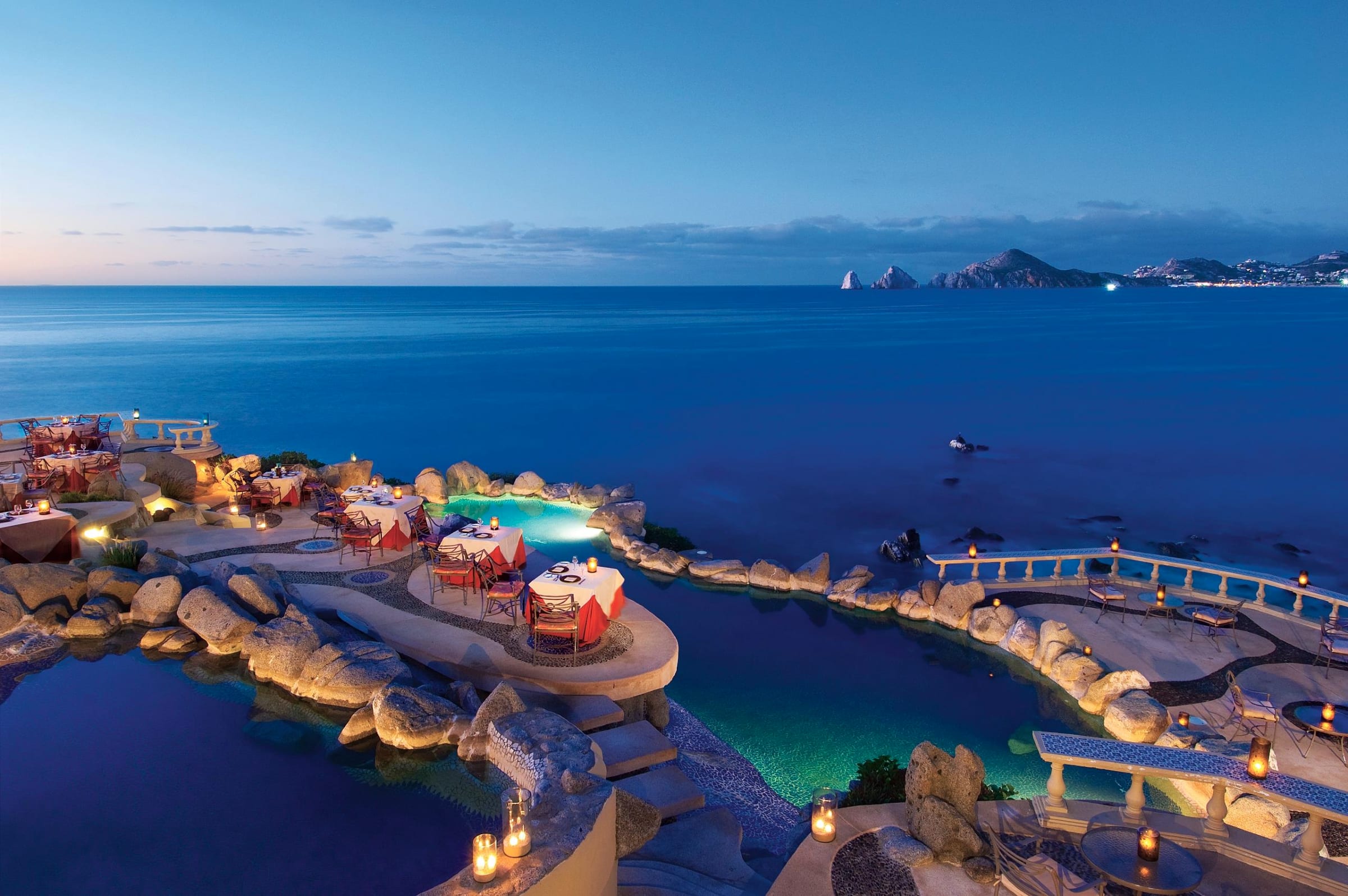 Sunset da Mona Lisa is famous for its amazing view of the bay and El Arco. It features multi-leveled terraces and reflecting pools. Without a doubt, eating here at sunset is amazing and reservations are a must. They are open daily from 8:30am – 10:00pm in Cabo San Lucas.
12. The Container Bar

As the name suggests, The Container Bar, was made out of a recycled shipping container, making it ecologically friendly. It is an open-air restaurant right on the marina with a rustic deck, diverse menu, and, of course, a full bar. This is one of many places in San Jose del Cabo suitable for sunset drinks or a full meal. It's laid back atmosphere and creative construction make it a great restaurant to check out in Los Cabos!