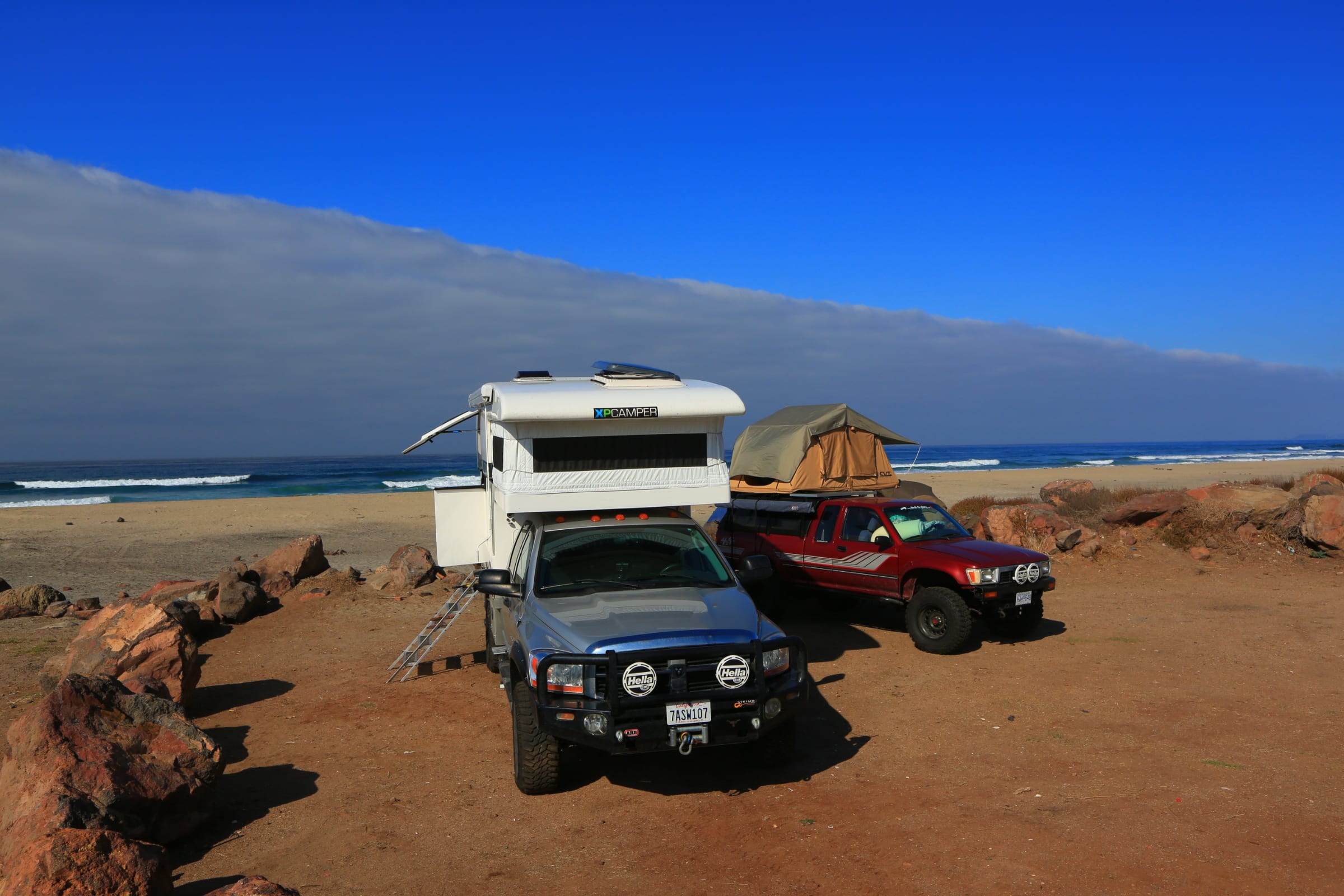 RV Camp Site in Baja California
C/O http://www.songoftheroad.com
Camping in Baja is a sport unto itself. Pack a truck full of gear, choose a spot on the beach, and spend your days snorkeling secluded coves or catching the nearest surf break. Prepare simple meals of guacamole, salsa, totopos, and fish tacos. A lone burro may stroll by to find out what's for lunch. Sip a limonada at sunset, and wait for shooting stars to light up the desert night sky. If you're lucky, a nest of sea turtles may hatch on the full moon. Why not leave the creature comforts behind and make your next trip to Baja an outdoor adventure?
There are hundreds of places to pitch a tent along the Baja Peninsula, ranging from isolated fish camps and high-sierra campsites to big-rig RV parks. Fees range from US$5 for a place to set up a tent to US$35 or more for RV spots with full hookups and access to recreational facilities. Many of these campgrounds feature the best views you'll find anywhere on the peninsula. But you'll have to venture beyond the Los Cabos corridor to find these hidden gems.
The East Cape region, which begins just outside of San José del Cabo and runs north along the Gulf Coast, offers dozens of secluded beaches for self-sufficient camping (no facilities). A small fee may be collected by the local fishing cooperative for visitors who camp overnight at Bahía Los Frailes. And the snorkelling here on the north side of the bay is calm on days when the winds gusts out of the north.
The next village north of Los Frailes, Cabo Pulmo, has plenty of open space at either end of the shallow bay, which is a protected marine park. Snorkel or paddle a coral reef that comes almost right up to the shore. It's a short walk to a few shops and eateries in the fishing village.
Continuing north up the Gulf Coast, the East Cape RV resort in Los Barriles accommodates larger rigs with limited and full hookup sites. Bathrooms are modern and clean, and wireless internet is available. Playa Norte RV Park is another good option, especially if you are traveling with pets that will enjoy a long run on the open beach or in the arroyo next to the park. If you don't need modern amenities, choose free primitive camping on the beach north of these two parks.
Sierra de la Laguna Biosphere Reserve
Experienced backpackers will want to head for the mountains to summit Picacho de la Laguna, the highest peak in the Sierra de la Laguna range. Most hikers tart on the west side, near Todos Santos and camp overnight at the oak meadow known as La Laguna. This is a 24-kilometer round trip hike, and a guide is recommended. Contact Todos Santos Eco Adventures for information. The route is more difficult from the eastern approach. Inquire at the Palomar Restaurant-Bar in Santiago to arrange for a guide.
At La Ventana Campground, kite surfers huddle tent to tent, bracing themselves against El Norte, the north wind. About 50 campsites are right on the beach and within waking distance to food and services along Bahía La Ventana, southeast of La Paz. Facilities include toilets and cold showers.
Primitive camping is available on Isla Espíritu Santo, but you need to get a permit at the local SEMARNAT office before you go. Pets and campfires are prohibited on the protected island. Bring your own purified water.
A remote stretch of beaches north of Todos Santos offers prime camping for surfers and others who want to enjoy the wildlife and cool breezes along the Pacific Coast. There are no facilities in this area.
Packing
Its best to bring most of your gear from home, but you'll find supplies at the Mega supermarket in San José del Cabo, or try Home Depot or Costco near Cabo San Lucas. Head lamps are essential for any trip to Baja, as is a first aid kit.
Pack a UV flashlight to find scorpions at night. Bring a sun hat, layers for chilly nights, sunscreen, water shoes, and sports equipment. Don't forget the basics: tent, sleeping bag, camping stove, and water purification system. Straps forattaching gear to the roof of your vehicle may also come in handy.
By Nikki Goth Itoi