By Alex Navarro, Baja Adventure Expert
If you want to do the extra ordinary adventure in Baja, here are some suggestions to make your vacation totally different from the rest.
How about a beautiful kayak trip from Medano bay in San Lucas to Lover's beach at Land's End? It is a pretty easy outing, only about 15 minutes each way. Be very attentive to all water vessels like parasailing and fishing boats, jet skis, etc. The trip is wonderful, you can check out the famous arch and sea lion colony next to it. Near Lover's Beach you can paddle around Neptune's finger and Pelican rock. Once you arrive at Lover's beach make sure you drag your kayak high up the beach. Maybe pack a lunch and an umbrella to stay a little longer, or you can find some great shade next to the tall rocks. The cool thing about this beach is that you can cross to the other side and arrive at a beach in the Pacific Ocean, which is called porce beach. Swimming is not recommended at porce beach since it has extremely dangerous conditions, but possible at Lovers' beach if the conditions allow. You can rent a kayak at many establishments in Medano bay.


For a more advanced level ocean kayaker, you would definitely want to contract a specialized outfitter and make a kayak trip from Widow's beach to El Chileno beach, making a stop at Santa Maria bay, all of which are within the tourist corridor.

This is an hour plus kayaking trip depending on conditions and fitness. Some whale watching could happen for sure during the winter season and the snorkeling is very good at both Santa Maria bay and El Chileno beach and reef.

Another great kayak trip is from Cabo Pulmo reef to La Sirenita beach at the south end of Cabo Pulmo bay. The snorkeling here is outstanding. You can rent a kayak and snorkeling gear at many Cabo Pulmo establishments.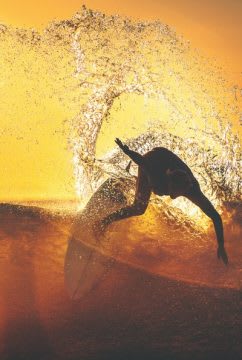 If you are a very good kayaker you might try to make it all the way to the sea lion colony or even to Los Frailes bay, but check conditions very carefully, especially the winds because they could make the return trip very difficult. Also, plan your trip early in the morning and an early return as well. Some of my most memorable kayaking experiences have been here. This area is magical.
For an amazing bouldering hike you might want to go to "Cajon de Yeneka". A specialized Los Cabos adventure outfitter is also recommended for this hike. The site is a little north of San Jose del Cabo and south of Miraflores and El Caduaño. I love this hike because you start off crossing a narrow, very high and spectacular canyon as you come to the first waterfall of many more. You can travel many kilometres up the "arroyo" and creeks, but it is important to know this is not a trail hike. This is semi/dry upstream river bouldering and can get technical at times. So make sure you take great outdoor shoes and your hiking back pack with water and food. Your guide should bring a first aid kit. The higher you go the more astonishing scenery, flora and fauna you will encounter, as well as many cold pools within the route that will cool you down.
A hike I have never done but would like to, and my friends who have done it have told me is very nice, is to hike from the San Lucas Marina area to Lover's beach. One way is to park at Paseo de la Marina boulevard and walk up Solmar avenue and start your hike there. The other way is to park at the same spot and walk to the beach to the old cannery "La Empacadora" and start the hike there. They say the views are amazing as the hike has some elevation and faces both the Pacific Ocean and the San Lucas Medano bay. It is not recommended for kids under 10 years old and older adults as some spots require slight rock climbing. Also not recommended is to get too close to the ocean at any point of the trail. Maybe take a bathing suit and swim at Lover's beach to refresh when you arrive there! *