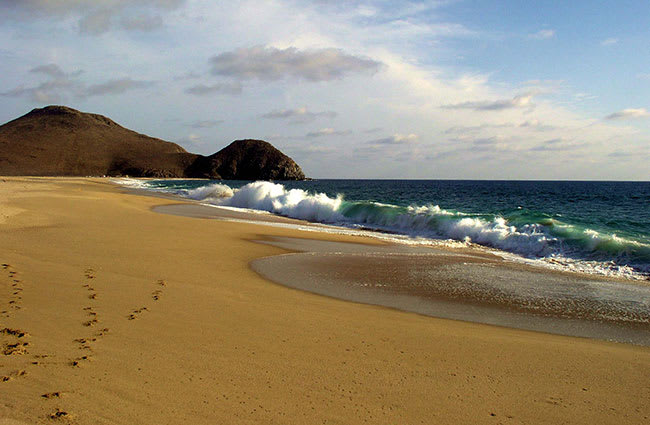 Todos Santos Beach C/O http://www.casabentleybaja.com
When my husband Jim and I came to Todos Santos on our honeymoon two years ago, we had no idea it would be a life-changing trip. We'd already visited many beautiful places together and discussed the possibility of becoming "digital nomads," living and working abroad, but nowhere felt quite right until we came to Baja. Something about the dramatic desert between the ocean and the sea, the huge starry skies, and the lucid, magical light drew us in. Todos Santos offered the perfect backdrop for a new adventure, and so a year later we sold our house in Denver, packed our bags and moved our lives to Baja.
We soon learned that while Cabo and our new home of Todos Santos are lovely, there is so much more to Baja Sur. This is a land where desert and ocean vistas are dotted with interesting pueblos and cities, deserted beaches, and even mountains and lush palm oases. We've barely scratched the surface, but what we've explored so far has been an intoxicating combination of rugged natural beauty and warm, interesting culture. The best way to take in all that Baja Sur has to offer is to spend at least a couple of weeks on the open road, allowing room in your itinerary for surprises and detours. Let these pueblos of Baja Sur serve as the anchors to your road trip adventure.
Loreto
One of the oldest settlements in Baja, Loreto offers visitors a stunning setting between the Sea of Cortez and the Sierra de la Giganta mountains, fascinating history, and incredible marine life. The town itself features tree-lined walkways and shops, cosy restaurants, cobblestone streets, and a wide malecón where you can walk along the sea and enjoy a popsicle from a local paleteria. Posada de las Flores, a romantic hacienda-style hotel in the center of town, would be a perfect place to rest for a night or two before moving on.
Just outside of town, you can take a scenic mountain drive to the very well-preserved Mission San Javier. The mission guides will explain the history of the settlement, and both the mission itself and the backdrop are gorgeous to look at and photograph. If you'd rather spend your free time in the sea, book an island tour by boat. Islands such as Dazante and Catalina offer uncrowded white sand beaches and crystal-clear turquoise water. You may even see dolphins and whales frolicking near your boat, like we did on our recent visit. A half hour outside of town right on a tranquil bay, with easy access to the islands, Villa del Palmar is another great hotel option.
Santa Rosalía
A few hours north of Loreto lies one of the most unique pueblos in all of Baja. A former copper mining town with French origins, Santa Rosalia is a seaside town unlike any other. French-inspired architecture, an unusual old church made of stamped steel plates, and mining relics will give you plenty to look at it and take photos of if you spend a few hours here. On a longer visit, you can use Santa Rosalia as a base for exploring the region's historic rock art and cave paintings. Santa Rosalia is also close to the town of Mulegé, a lushly green oasis town located at the mouth of a wide river. On a road trip you can combine Santa Rosalía and Mulegé and spend anywhere from a few days to a few months exploring just this area alone.
La Paz
Despite gorgeous geography, what are arguably some of the most beautiful beaches in the world, and a sophisticated restaurant and nightlife scene, La Paz has somehow managed to remain unspoiled and unpretentious. This city of around 200,000 people has a lot to offer visitors while still retaining the feel of a "real" Mexican town where people raise families and work. Located about 45 minutes north of Todos Santos on the Sea of Cortez side, La Paz is an appealing option for those travellers looking for a vibrant city with a much different feel from Los Cabos.
The malecón area is one of the best spots for people watching in Baja Sur. This is especially true on Friday and Saturday nights when families, young couples in love, and tourists alike gather to stroll along the boardwalk and visit with each other. Beaches like Balandra and El Tecolote are surreal in their beauty, with lunar white sand and sparkling, shallow water to splash around or kayak in. While in La Paz, be sure to enjoy chocolate clams, a local delicacy named after their chocolate brown shells. For a luxurious stay, check out Costa Baja Resort and Spa, a five star resort with insane Sea of Cortex views. If you're more into the quirky backpacker scene, snag an affordable room at Hotel Yeneka, which is part hostel, part museum, and conveniently located in the center of town.
Todos Santos
Our new home of Todos Santos may be tiny, but she has a lot to offer. Located just about halfway between Los Cabos and La Paz on the Pacific side of the peninsula, Todos Santos is a convenient spot to spend a few days on your road trip before continuing in either direction. Full of artists, surfers, and other free spirits, Todos Santos is best known for being packed with quality art galleries and restaurants, and its proximity to uncrowded, dramatically beautiful beaches.
One of Mexico's "pueblo magicos," Todos Santos offers a unique charm that must be experienced in person to be truly understood. If you decide to stay in Todos Santos for a night or longer, The Hotelito is an ultra-chic yet serene place to stay at a reasonable rate. While in town, be sure to stop by Playa Las Palmas, a unique beach that involves a bumpy drive and a walk through a scenic palm grove, often visited by local horses. Have a cocktail at the rooftop bar at Hotel Guaycura and then enjoy a memorable dinner with romantic ambience at La Casita.
El Triunfo
The former mining town of El Triunfo is located in the mountain back country between Todos Santos and the East Cape. While small and quiet, El Triunfo has a surprising amount of charm. It's hard to believe that such a sparsely inhabited village was once a silver boom town and cultural center with a large population, but if you look closely you can see the remnants of this history. From a tall smokestack designed by none other than Gustave Eiffel, to a world-famous piano museum, little El Triunfo is full of surprises. Be sure to stop in for gourmet wood-fired pizza and a glass of wine at Caffe El Triunfo.
Miraflores
Continuing through the back country heading toward San Jose del Cabo, you'll encounter the village of Miraflores. This authentic, un-touristy town feels off the beaten path, yet is conveniently located only half an hour from Cabo. The small plaza, church and tranquil streets are very picturesque. Miraflores enjoys a subtropical climate, allowing lush trees, flowers and organic farms to thrive.
Los Barriles
Halfway between La Paz and Cabo on the Sea of Cortez side of the peninsula, the pueblo of Los Barriles makes a great headquarters for exploring the East Cape region. Los Barriles is a small village, but there are enough good restaurants, taquerias and local markets to keep you well-fed on even an extended visit. Los Barriles has a small but lively population of local Mexicans and expats, and quiet, off-the-grid charm. Most impressively, Los Barriles is right on the Sea of Cortez, with the vast beauty of "the world's aquarium" right at your front door. Deep sea fishing, snorkelling and diving in Cabo Pulmo, a large living coral reef and marine park offer once in a lifetime adventures.
Los Cabos
As a world-renowned tourist destination, Los Cabos needs no introduction. After your rustic road trip adventures, it will feel great to relax at one of the many beautiful ocean-front resorts Cabo is famous for. San Jose del Cabo may surprise you with its old Mexico beauty, Thursday night art walks, organic farmers markets and farm-to-table restaurants. Cabo San Lucas is full of energy and style, boasting world-class restaurants, beautiful snorkelling beaches like Chileno, a pulsing nightlife, a posh marina area, and the famous rock formation known as El Arco.
In addition to the many phenomenal seafood offerings of the marina area, Cabo offers some unexpected gourmet delights. Dinner at the intimate El Matador Restaurant, owned by a genuine former matador who loves to provide guests with personal attention, never disappoints. Huerta Los Tamarindos and Flora Farms are two organic farm-to-table restaurants, both offering exceptionally fresh and delicious cuisine in lovely outdoor settings. There are countless nice hotels to choose from in Los Cabos, but my personal favourites are the artsy-chic Hotel El Ganzo, charming and affordable Tropicana Inn, and European-owned Casa Natalia.
From unique, off-the-beaten path towns your friends back home have never heard of, to an abundance of marine wildlife, to the sophisticated cosmopolitan offerings of Los Cabos, Baja has it all. Simply book a flight to Cabo, La Paz or Loreto, grab a trusty rental car (or four-wheel drive truck), a map, and your sense of adventure. Time to hit the highway and make some Baja memories.
By Casey Cline