Craving a fun, adventure-filled vacation? Look no further – Cabo San Lucas offers great thrills for adventure-lovers of all ages! From watersports to tours and all types of attractions, Cabo hosts some of the most unique activities in Baja California.
We've done the research for you and found a few of the most exciting things you can do on your next trip to Mexico!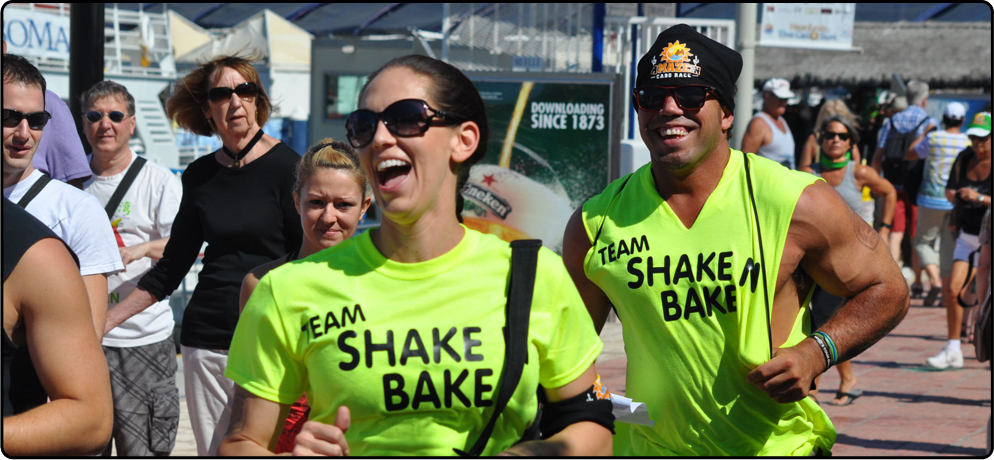 A-Maze-In Cabo Race C/O http://www.amazeincaborace.com
One of TripAdvisor's highest rated attractions in Cabo is the A-maze-in Cabo Race. Action-packed and full of surprises, you don't want to miss out on this one!
Launched in May 2013, the A-maze-in Race puts its participants through an exciting adventure with a "reality game show" twist. The race involves a number of puzzling clues, only to be solved by teamwork and the help of locals. Those who have watched the actual reality show are sure to enjoy the race's interactive challenges, which take participants through both classic and more undiscovered sights of Cabo.
The challenge begins at a special meeting location, where team members are given a clue to solve. Clues takes teams to secret locations, involving challenges and leading teams closer to the final destination.
The A-maze-in Race adventure is best enjoyed by those who are at least 7 years of age, making it an appropriate activity for many visiting families, friends, and couples. Teams of 2 to 5 people form perfect competing groups.
Win or lose, everybody is welcome to the finish celebration. The celebration includes an awards ceremony and the opportunity for participants to eat, drink, and share their experiences with new friends.
Sound like something you might want to try? Each race is $70 per person and includes all fees, required race materials, logo bandanas, bottled water, and snacks and drinks at the finish celebration.

Amazing Cabo Bar Crawl C/O http://www.facebook.com/amazingcabobarcrawl
For those who are looking for adventure in a more adult-friendly atmosphere, the same crew also host an Amazing Cabo Bar Crawl. Similar to its sister-attraction, the crawl involves a bit of puzzle-solving, 2-3 hours of bar-hopping, and a whole lot of fun.
The $59 event includes drinks and challenges at 12+ bars, a C-R-A-W-L "survival" kit, team glow sticks and extra drinks at the finish celebration. Of course, it also promises plenty of stories to entertain friends and family at home.
If you are looking for a little more adrenaline, you might want to check out Cabo FlyBoard. If the name doesn't sound familiar to you, that's because the FlyBoard sport has only been around for about 3 years. Nowadays, more than 2,500 FlyBoards are in circulation around the world.
The watersports device, connected to and powered by a personal watercraft, allows propulsion underwater and in the air. While a certified trainer controls the power and height, you control all the movement. A FlyBoard adventure is bound to be a one-of-a-kind experience – make sure to bring your waterproof camera!
The Cabo FlyBoard dealer is located in Medano Beach. Book now for some high-intensity fun for the entire family!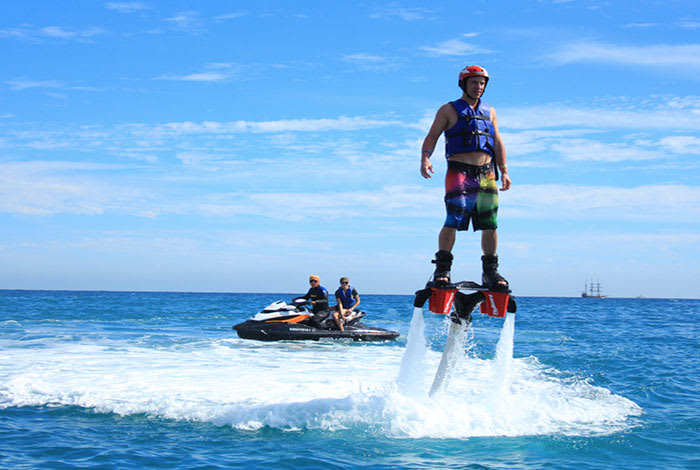 FlyBoarding in Cabo San Lucas C/O http://www.tripadvisor.com