"In today's world there are many reasons to go solar. Whether one is motivated by geopolitical, environmental, financial or societal concerns, solar power can help accomplish our individual and collective goals. Technological advancements have made it an affordable and reliable source of energy in any environment. Consider the long-run viability of solar power: What do you think will happen first: the oil runs dry; or the sun stops shining? Freeing ourselves from the dependency on fossil fuels is more important than ever. Adding solar power to a home or business not only lessens our dependence on oil, coal, and natural gas but it also sets an example of stewardship in our environment."
Jack Watson, CEO at NYPV LCC
Imagine you live here, in Los Cabos, and that Hurricane Odile not only blew your mind, it also left you and the whole town without electricity. For at least a week, you were left with no water, no lights at night, and — oh my! — no gadgets?! You are left with no internet, no computer, no phone… nothing that needs electricity to function! You might ask you self, how is it possible that I am in Baja, where the sun shines no less than 360 days a year, and no leaders are investing in solar power? We have an answer for you. You are your own leader, and solar power is available to everyone, as long as the sun shines. Don't know where to start? Solar cells are expensive? You don't know anything about alternative energy and how the sun creates power to generate electricity? Write this down… The Green-Go Solar Project.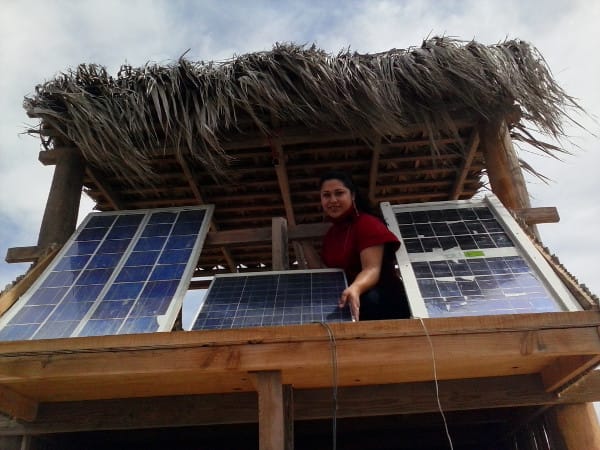 The Green-Go Solar Project uses cosmetically rejected solar cells to teach people without
electricity how to build working solar panels from recycled material.
C/O http://greengosolar.org/
Solar panels and electric gear of all types can be prohibitively expensive. Many residents in remote areas live their day-to-day lives without access to electricity due to the combined logistics and cost of acquiring solar panels. The Green-Go Solar Project is a team of engineers, programmers, construction managers, craftsmen, enthusiasts, and friends dedicated to teach residents of rural Baja, Mexico how to build affordable solar panels from recycled material since 2010. Their mission is to enable people to improv their own lives by providing hands-on training and material to create their own solar electricity. Their workshop students build working solar panels with cosmetically rejected (but functional) solar cells that they acquire from the waste stream of the solar industry. They use frame building material that is either recycled/repurposed or is locally available and affordable. This enables them to create hand-made solar panels at a fraction of the cost of a similar panel created in a factory. Students leave with a basic understanding of solar theory and solar panel construction so that they continue building more panels for themselves and their families. This training also enables them to troubleshoot and fix others' non-functional solar gear of whatever origin. Their methods have always been geared primarily toward local Baja residents who do not have the financial means to purchase retail solar equipment, although they do also teach students and solar enthusiasts. They teach in English, Spanish, and Portuguese (Brazilian).
The Green-Go Solar Project works in partnership with a Mexican corporation to maintain a facility for their use. They have established a series of lots in San Juanico (Scorpio Bay) in Baja Sur. Their base facility is named "El Rancho Solar" They offer these facilities to students to use and currently have 2 adjacent lots outfitted to house students. Both are located at the edge of town, overlooking and adjacent to the renewable power station that runs the town grid. They provide all materials needed for the construction of a functional panel and students leave with an understanding of the principles and techniques involved in the construction of a working solar panel. The Green-Go Solar Project is now taking their workshops to other communities in a mobile format, meaning they can take this training and material to help the storm-battered communities to rebuild with affordable, sustainable power. Yes. How can you help? Visit here. Donate. You can help provide more storm-area workshop material. You can help make mobile workshops happen by providing repair and maintenance for their full-sized Econoline van, which acts as their mobile solar workshop. You can help make more tools available to workshop students. You can help develop a remote workshop campaign. You can help make Baja Strong.