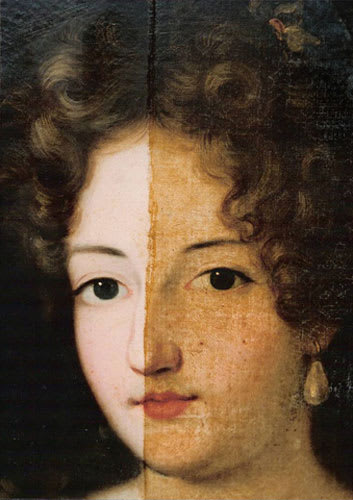 Art restoration is a delicate process. C/O http://www.fineartrestorationnyc.com/
To restore a piece of art is a delicate job and it requires preparation. In the Art world, this process is about preservation and success in returning the artwork its originality. To carefully examine the piece of art before intervention is necessary in order to preserve its original characteristics. If the piece suffers humidity or any other damage, the restoration process will consist of restoring beauty exactly as it was at the moment of its creation.
The restorer must mainly know the materials used to create the master piece; the treatment chosen for restoration depends on it. If this fact is ignored, the results can be devastating. Each part of the whole process must be a necessity for the artwork, meaning there is no room for preventive restoration: nothing
needs to be done that it is not necessary. It is recommended that materials be totally reversible and most importantly that the age of the artwork be respected, because it is part of history.
You must not forget that the restorer is only responsible for preserving the piece, not for the original artwork. Originality must always be a priority.
Tips to maintain your art collection at home in good condition:
1. Allow air circulation while avoiding having the art piece stuck to the wall; a wall's humidity can damage it.
2. Never clean a painting with a humid cloth.
3. Avoid exposing the piece to the sun with the intention to dry it if it has been damaged by bad weather.
4. Do not have candles close to the art piece — smoke can cause damage — and do not project light directly onto a painting.
5. It is possible to augment air circulation using fans, but they must blow in an opposite direction to the piece of art.
An art piece can suffer deep damage if it is not handled appropriately when it is wet. That is why it is recommended to include an expert in restoration during your rescue process — to help you save the art piece from disaster.
A qualified gallery will counsel its clients about the importance of high-integrity restoration and time-tested conservation methods. Correct restoration is not simply a process but truly an art form. Discuss your particular requirements, from providing necessary restoration to maximize resale value, or to restore and preserve works of museum quality. By experimenting with virtually every conceivable combination of water-soluble, reversible and pH-neutral materials, a Restoration artist has developed superior restoration and conservation techniques. The experience working on museum-quality collections allows him or her to employ these same techniques to smaller, less demanding projects while maintaining the same integrity of results.
Art Walk in San Jose Del Cabo
A popular weekly event, The Art Walk happens every Thursday evening between the months of November and June, the galleries welcome guests to enjoy an evening strolling by the neighbourhood, viewing art, sipping wine and dining at the artsy neighbourhood restaurants. Galleries are open from 5pm-9pm special events such as "artist in attendance" or openings of new work will enchant you. November has magical Day of the Death art happenings you don't want to miss.
By Architect Lulú Pineda