Los Cabos is a surf town. Children, young and old, want to surf Cabo. If you need a reason to surf, we can give you many. Los Cabos beaches invite professionals and beginners just the same. Lessons are offered by many sport companies and services abound. Surfing is for everyone.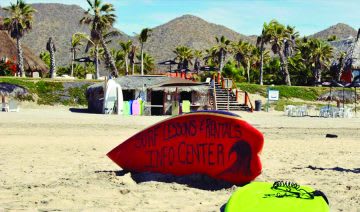 What to expect when you are learning how to surf? The best way to live an adventure, is to not have any expectations. Listen, ask questions, it does no matter if they sound simple and obvious, to you this is your first time and asking questions is how you build confidence when dealing with the unknown. If you want to successfully surf a wave, your mind must be at ease. Once your mind is empty of doubts, then go through the motion of what the body needs to know when surfing. That means practicing in land what you will be doing in the ocean. This will allow your body to catch up with what your mind has understood so far. Once your mind and body are in sync, and the knowledge you received from the expert becomes a natural flow, you are ready to go in. It is customary for the in- structor to choose your first wave (and the next one, until you get it) and explain to you the qualities you are looking for while deciding which wave to ride. They will then help ride it…they literally give you a little push and get you on the wave. Just go through the motions you already practiced, keep your mind at ease, and feel it.

Costa Azul Surf Shop (624) 142-2771 www.costa-azul.com.mx can arrange a surf excursion to Cerritos Beach or if you're in San José or Cabo San Lucas you can stay local and head to Zippers beach or Mike Doyle Surf School (624) 172-6188 at Cabo Surf Hotel, located only minutes away from three surf Cabo spots ranging from beginners to pros.
Get to know the ocean. The best lessons are learned through your own experience. Find out the basics by taking a class, and enjoy a surfing day with a surfer you trust.
Originally published in Destino Los Cabos magazine