Every Thursday, all the galleries of San Jose del Cabo's art district participate in an event known as the Art Walk. The Art Walk season lasts from November through June, and provides fun, cultural evenings for Cabo's residents and visitors alike.
The walk goes from 5 to 9 PM, and all participating galleries welcome guests to stroll through, sip wine and cocktails, and take in all of the unique art on display. Often times, certain galleries will feature an "artist in attendance," or an event of a similar nature.
This event makes Thursday nights a great night to come to downtown San Jose del Cabo and enjoy what the art district and this part of Cabo has to offer.
Visitors can make an evening out of it, strolling from gallery to gallery and ending with a visit to one of the many world-class restaurants also situated in the district. Just be sure to make a reservation ahead of time, as this is an extremely popular night to be out in downtown!
In recent years, the art district has become the cultural center of Los Cabos, featuring the works of all types of local, national and international contemporary artists.
The galleries feature a wide variety of art forms, from paintings and sculptures to ceramic, jewelry and glass – for all tastes and budgets.
The Casa Dahlia Gallery, for example, features paintings and sculptures from several of Baja's contemporary artists. The El Armario gallery, on the other hand, boasts authentic Mexican folk art, including paintings, woodwork, pottery and more.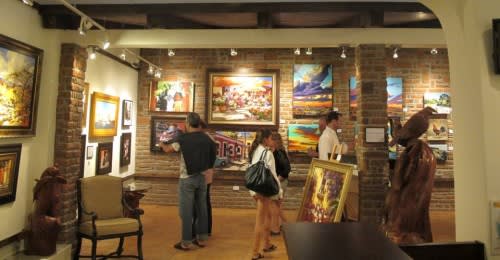 Art gallery in San Jose del Cabo C/O http://www.elencantovillas.com
The La Dolce Art Gallery houses modern paintings by both national and international artists that place an emphasis on color, texture and self-expression, and the La Sacrista Gallery offers some of the best silver jewelry, handmade by Mexican artists.
Even if you're not an art lover, you'll enjoy the fun, relaxed atmosphere of the art walk, often accompanied by music and street performances.
The district is small with galleries extremely close together, making it hard not to feel the vibrant, enthusiastic energy of the event.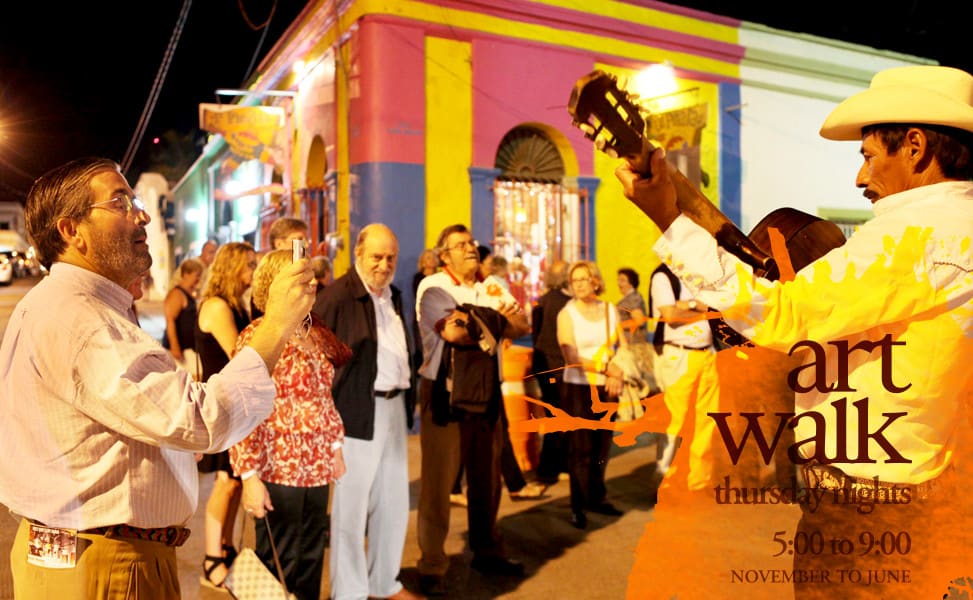 Musical street performance during Art Walk C/O http://www.artcabo.com
Even more, the walk is a nice window into a part of Cabo that many tourists and visitors do not otherwise get a glimpse of. A perfect blend of old and new, it's an incredible representation of both Cabo's history and future.
If you're visiting Los Cabos between November and June, the art walk is something you simply cannot miss!