by Justine Schock – REmexico Cabo Real Estate Agent on Quivira Los Cabos
Imagine waking up to the sound of crashing waves and looking out your window to sweeping ocean and golf course views. This dream can be a reality at Quivira Los Cabos! Quivira is an 1,850-acre master-planned community on the Pacific Ocean side of the Baja peninsula, about 10 minutes north of downtown Cabo San Lucas. Quivira is known for its Jack Nicklaus designed golf course and three-mile stretch of untouched beaches. One of the great things about Quivira is that they have four distinct neighborhoods at different price points, which makes living the Cabo dream achievable for everyone. They even offer attractive financing programs and pricing incentives, which can be hard to find in Mexico. Quivira is currently selling homes in Mavila, Copala, Coronado and Montecristo.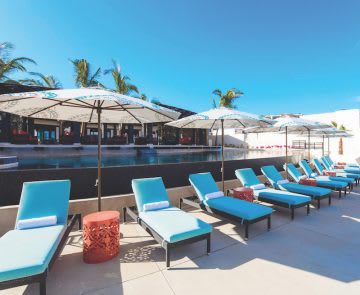 Mavila is the newest addition to the Quivira family, and the most budget friendly with pre-construction homes starting at $190,000usd. The new "pueblito" style home concept will offer owners condos that look more like townhomes than traditional condominiums. "The central "village" is comprised of two- and three-story buildings which have single level one-, two-, or three-bedroom condos. The more privileged top floor condos have an included roof-top terrace. The buildings are distributed around three community pools and are connected via winding footpaths that lace through fountain-studded courtyards. Along the fairway are three-bedroom two-story single-family homes, and the next phase will introduce a handful of towers with two- and three-bedroom condos," explains Ryan Winegar, Sales Manager at Quivira.
Next up is Copala; a mix of two- and three-bedroom condominiums and four- and five-bedroom single-family residences. Owners interested in the residence portion of Copala can choose between seven different floor plans, ranging from 1,800 to 2,400 square feet. "The entire community sits up high in the center of Quivira looking down over the Pacific Ocean" describes Winegar. Owners have access to the 38,000-square foot Copala Clubhouse, which includes a stunning pool, massage rooms, movie theater, deli, gym, meeting rooms and more. The views from Copala are absolutely breathtaking!
Coronado is my probably my favorite of Quivira's offerings, an exclusive community designed for 64 single level villas. Each three-, four- or five-bedroom villa features expansive terraces with unobstructed ocean views. Owners can choose from a wide variety of finishes to customize their home and truly make it their own. I love the old-world hacienda style of Coronado, and the contrast between wood beamed ceilings, high end appliances, granite, marble and stone. Each home comes with its own custom designed family crest at the entryway. Its special touches like these that make Coronado a one of a kind place to live!
Last, but certainly not least, are The Private Residences at Montecristo, featuring 18 luxury Tuscan-style homes. Winegar explains, "Montecristo is a small private section of hillside homes with its own entrance and security but with access to hotel amenities. The three-bedroom two-level homes are fully furnished, turn-key and enjoy both service from and access to the amenities of the Montecristo Clubhouse and the Pueblo Bonito Sunset Beach Resort & Hotel." Homes in Montecristo include an infinity pool, jacuzzi, large terraces, and spacious design. Both Coronado and Montecristo start in the upper million-dollar range.
All owners at Quivira have access to the Quivira Golf Club and many other first-class amenities including restaurants, gyms, award winning spas, and optional golf club and private yacht club memberships. And the new toll road from the San Jose International Airport makes getting there easier than before. No matter what neighborhood you choose, you can't go wrong with a home in Quivira Los Cabos!