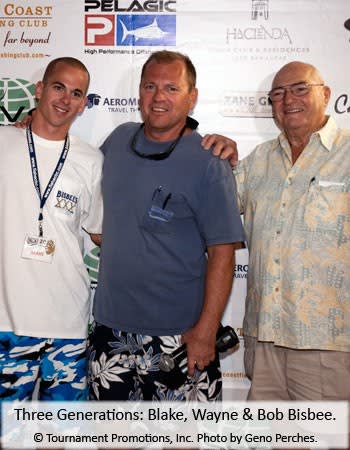 he tournaments are organized by three generations of Bisbee's.
℅ http://www.bisbees.com
For over 30 years, Bisbee's Black & Blue Tournaments have occupied both fishing experts and amateurs in the Los Cabos region of the Baja Peninsula. As Cabo is recognized for being a fishing town, the Bisbee's have come to produce three tournaments throughout the year.
Over time, each tournament has developed its own personality. The East Cape Offshore contest is described as a laid-back, "Cabo fishing as it used to be" type of event. The Los Cabos event, nicknamed "Little Bisbee's", is a more social event, where

friends can get in a few days of fishing before the big show.
Bisbee's Black & Blue Marlin Tournament takes place every October and is the most spectacular event. The tournament consists of five days of organized chaos, excitement and hundreds of viewers as huge fish are weighed in at scales in front of the world-famous Puerto Paraiso Entertainment Plaza
Last October, a team of local orphans and their caregiver – all of whom had never fished before – caught a 385-pound blue marlin and won the big tournament. The team was awarded $258,325 in prize money, but every single dollar will be going to Casa Hogar, the organization that has benefited them


The event was a timely one, in light of the fact that the tournament fell just weeks after Hurricane Odile devastated the Baja Peninsula. It has also brought attention to an important cause.
Casa Hogar de Cabo San Lucas is an organization that helps provide shelter, food and educational opportunities to underprivileged boys in the Los Cabos region. Having been in operation for only six years, the home hovers around 40 boys with adoptions and boys returning to their families. Their ability to fill the home is limited by funding.
Their mission is all-encompassing: "to show a path to success for the young boys in need in Baja California Sur…dedicated to providing active care and personal well being as to many boys as our building will accommodate."
Casa Hogar also strives to "educate and elevate": educate in academics, life skills, moral values, religious values and social values, and elevate to levels beyond the norm within this society.
"In all honesty, up until a couple weeks ago, I thought we were going to rally whoever was here at the Baja Cantina, throw some money in a hat, and just go fishing to keep the tournament streak going," said Wayne Bisbee, director of the tournaments. "But thanks to all our fantastic anglers and sponsors, somehow we pulled it of and the results are just insane. We helped put a lot of people back to work, caught some good fish, and we're definitely leaving Cabo in better shape than we found it."
Bisbee is no stranger to charity work and giving back to the community. In response to the storm's destruction, Bisbee's Fish and Wildlife Conservation Fund, a Dallas-based non profit committed to protecting wildlife, helped ensure the tournament's success through its Cabo Relief Fund aimed at providing assistance to Cabo San Lucas' impoverished communities.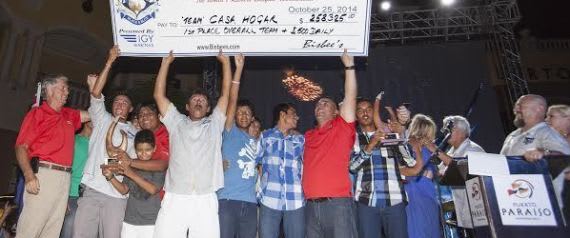 Team Casa Hogar with their prize money.
℅ http://www.huffingtonpost.com
It was through this fund that an anonymous donor was able to give Team Casa Hogar a chance in the tournament.