Airlines are booking flights for Los Cabos as early as October 8th! Hotels and resorts hope to get straight back into business, taking guests and making up for lost time! October and November are prime months and Cabo is gearing up for its peak holiday season.
The combination of relief efforts locally, federally, and internationally has been diligent in rebuilding the area. Tourism is at the heart of Cabo San Lucas' success, so the city is focused on making vacationers a priority.
Due to the hurricane, as a visitor you can expect plenty of resort and airline deals. While some hotels remained open all along, others closed for repairs.
Here are a few hotels and resorts you can expect to see reopening this October:
Pueblo Bonito Resorts and Spas
Looking to open in conjunction to resumed airline operations, Pueblo Bonito Resorts and Spas are doing just that. With some re-openings scheduled as early as October 8th, Pueblo Bonito Resorts and Spas have a number of re-openings throughout October.
October 8th: Pueblo Bonito Los Cabos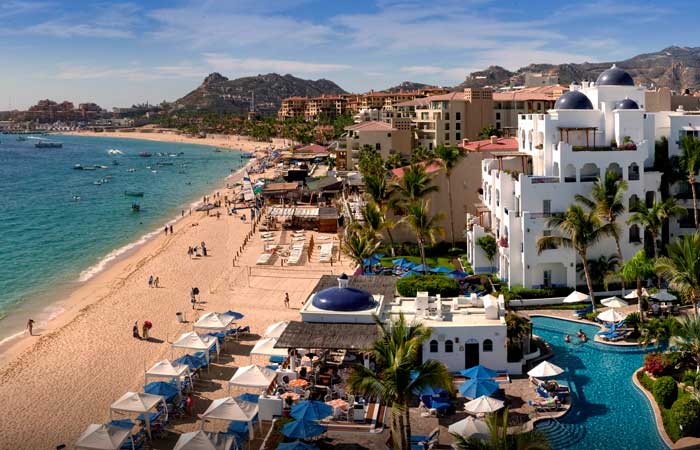 C/O http://www.pueblobonito-loscabos.com
October 8th: Pueblo Bonito Rosè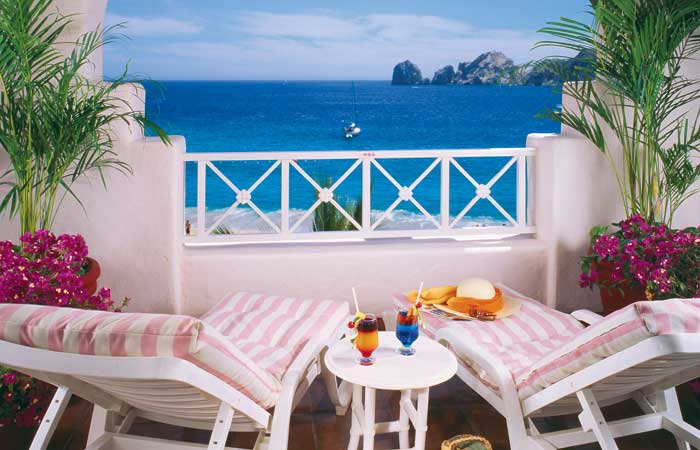 Terrace of Pueblo Bonito Rose in Los Cabos. C/O http://www.pueblobonito-rose.com/
This convenient hotel location is in the heart of Cabo San Lucas with Downtown Cabo in walking distance. Accessible by water taxi from the beach is the famous El Arco at Land's End.
They also feature a European-inspired resort and spa, full-service resort dining on the beachfront, a large free-form swimming pool, fitness center and more. There are plenty of on-site activities for kids and adults alike.
October 8th: Pueblo Bonito Pacifica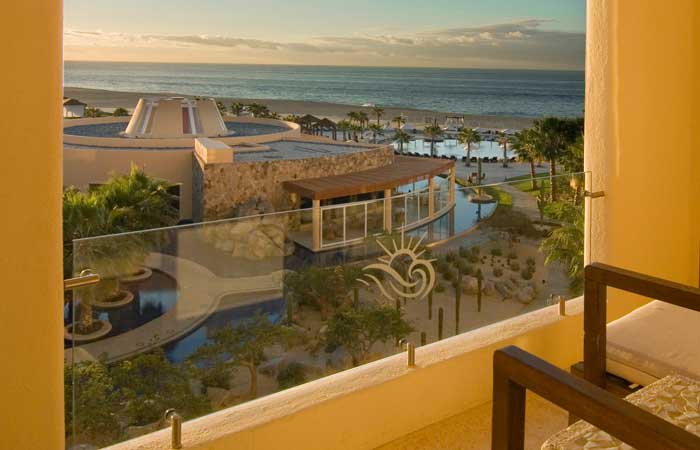 Pueblo Bonito Pacifica C/O http://www.pueblobonitopacifica.com/
As a Pacifica Golf and Spa resort, Pueblo Bonito Pacifica is an all-inclusive adults only location. Modern, elegant and located on a secluded beach, your stay here is guaranteed to be luxurious.
Ocean view accommodations include private balconies or terraces, feather-top beds and more. The attached award-winning spa, Armonia, is full-service and offers a fitness center, beauty salon services, meditation labyrinth and beach side yoga.
October 8th: Montecristo Estates Villas

C/O http://montecristo-caboluxuryvillas.com
These luxurious 3-bedroom villas are complete with private pool and spas, full kitchens and laundry, furnished terraces as well as access to the Clubhouse and private beach.
Ideal for destination weddings or meetings, the amenities, business services, and property services are sure to be luxurious while accommodating any personal request you may have.
All four of these resorts and villas are a part of the Pueblo Bonito Resorts & Spas family.
Other hotel and resort openings in October include:
October 1st – Cabo Villas Beach Resort.
With 80 of their units open on October 1st, the rest will be open by October 15th..
October 9th – Casa Dorada .
October 13th – Sunset Beach Resort & Spa.
October 22nd – Solmar Resorts.
The future is looking bright for Los Cabos and the tourism is sure to invigorate its economy as it prepares for a successful holiday season.