"Wandering re-establishes the original harmony which once existed between man and the universe."
– Anatole France
Roads under, a journey that paces you down and pulses a beat, echoes in you, reasons to live under the stars. To be on the road is what we all need once in a while, to find familiar places in far away lands, to reflect about what connects us through universal values, to rest from the squares and the spirals of mind imposed to ourselves, by ourselves, after staying put in one same place for while. A 360 degrees panning open aired swirl to breathe free, to meditate, to start again, to laugh and wonder, to heal.
Our ancestors love to journey through land, believing that longer the distance, the more truthful we get, in trance we search for the divine within all. A cleansing path towards spiritual balance. Whatever I am looking for, no matter where I go, I always find myself.
Profound and life-altering, road trips are always transformational. They bring us closer to the Earth, and being closer to the Earth, is being closer to our nature. On the road, we encounter the mysteries, rediscover what scares us, what makes us brave, what inspires us, and gives us courage to detach from that which does not serves us anymore.
Baja is sacred land for road-trippers. As wise as the desert can get, many secret paradises, vortexes of ancient and futuristic energy meet. A magnetic land no doubt, for the seeker a road trip through Baja will do. The natives are joyful to see you, eager to hear your stories and willing to befriend you deeper in your journey.
While traveling Baja through land, rest assured that ancestral healing is taking place in you. Stop, breathe, when you can't find yourself still inside your own universe, it is Time to be. On the road again.
A ROAD TRIP healing stop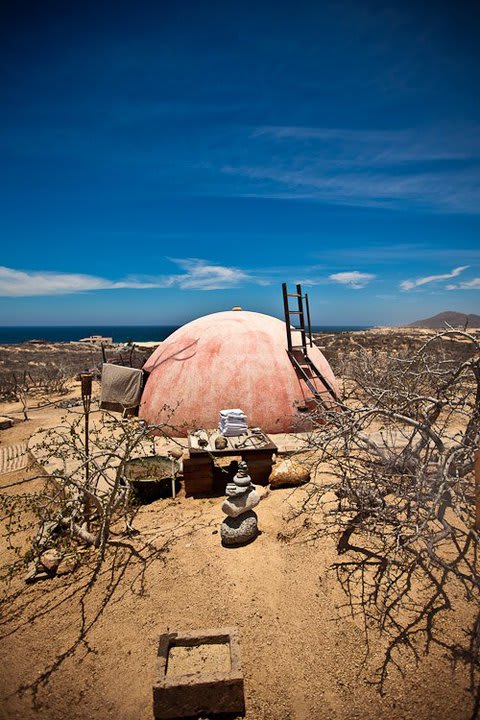 Cabo Temazcal, a traditional steam bath.
C/O http://www.facebook.com/cabotemazcal/
Carretera Todos Santos Km 107 Pacífico, Cabo San Lucas, Baja California Sur – Cabo Temazcal in Los Cabos Mexico provides Mexican and Native American healing earth rituals.
Mission: To promote health and healing both of the body and of the mind
Description: A Temazcal is a traditional steam bath that has been used for both healing and ritual purposes in Mexico. The name Temazcal (or Temazcalli) comes from the Nahuatl language and means "bathing house." The term actually comes from two Nahuatl words, "temas" or "temaz" which means bath, and "calli," which is the word for house