Last month, Los Cabos hosted its second annual "Canstruction" event. The event, which is held throughout the year in locations all over the world, helps raise food and awareness for hunger relief.
Cleverly named "Canstruction," this charity hosts competitions, exhibitions and events showcasing structures made entirely out of full cans of food. Once the structures are built,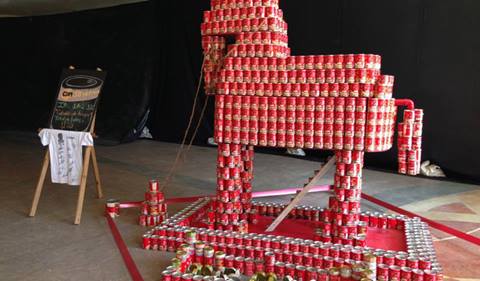 Canstruction Los Cabos 2014
C/O http://www.loscabosguide.com
the "cansculptures" go on display to the public as a giant art exhibit. At the end of each event, the food is donated to local hunger relief organizations.
Said one participant, "The most important benefit we get from participating in Canstruction is the opportunity to raise awareness of the role the food bank plays in our community, and the chance to remind people in a fun and creative way that it really does not take much more than a little thoughtfulness and generosity now and then to make a huge difference in the lives of people we live and work with."
Since 1992, the organization has helped raise over 25 million pounds of food in over 150 cities. In 2013 alone, Canstruction participants around the world created 1,001 structures, amounting to 4,704,652 pounds of food and 3,920,543 meals. But without a doubt, Canstruction has become something more than just an opportunity to donate food. Spreading awareness has become an integral part of the charity's events and exhibitions.
Their mission, after all, is "to feed and inspire the world – one can at a time."
This year, Cabo's Center for Organizational and Personal Development, the Questro Foundation, and the Association of Human Resource Executives collaborated to amass participation for Canstruction Los Cabos.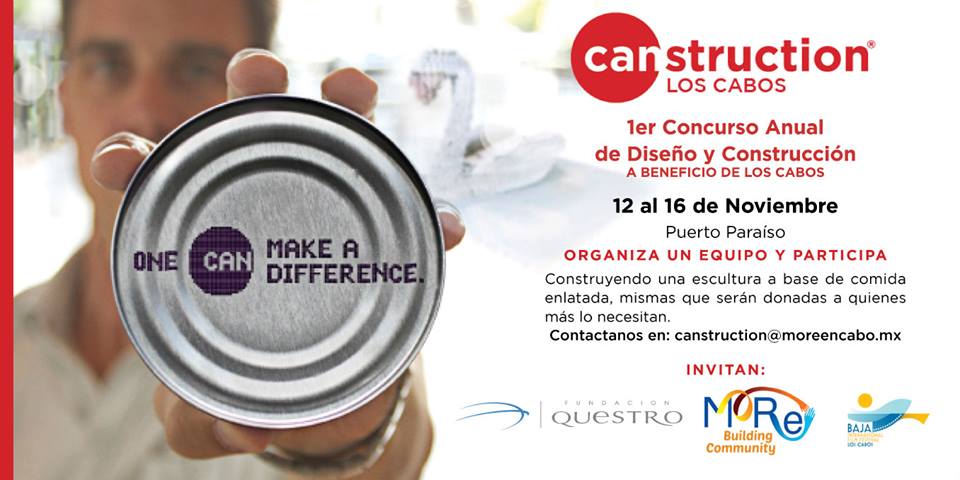 2013's Canstruction Los Cabos Event
C/O http://www.facebook.com/CabosFilmFestival
The hope was to raise awareness and help combat food poverty in the village. Last year, two organizations were awarded 8,174 collected cans of food. The food was distributed to benefit over 600 families.
This year's theme was Viva Mexico. Nine registered teams competed for six possible awards: Jury's Favorite, Public's Favorite, Bigger Nutritional Value, Honorable Mention, Best Structural Design, and Best Use of Labels.
Each team had a total of 12 hours to construct. Throughout the rest of the week, the structures were held on display for the public to come and vote for their favorite "cansculptures."
One of the organizations chosen to receive the collected cans was the Sarahuaro Foundation. The Sarahuaro foundation is a local non-profit organization committed to educating and providing basic needs to the community's most in-need population consisting primarily of women and children.
The foundation targets those families who have migrated from mainland Mexico hoping to find jobs the in the Los Cabos community. They teach community action workshops in Cabo San Lucas and San Jose del Cabo.
While Canstruction created quite a buzz on the news due to its very creative take on charity, it is not the only way that Los Cabos has given back in the recent months. Bisbee's Black and Blue Fishing Tournament recently raised thousands of dollars for Hurricane Odile relief. In the year ahead, there is no doubt that similar events will take place.