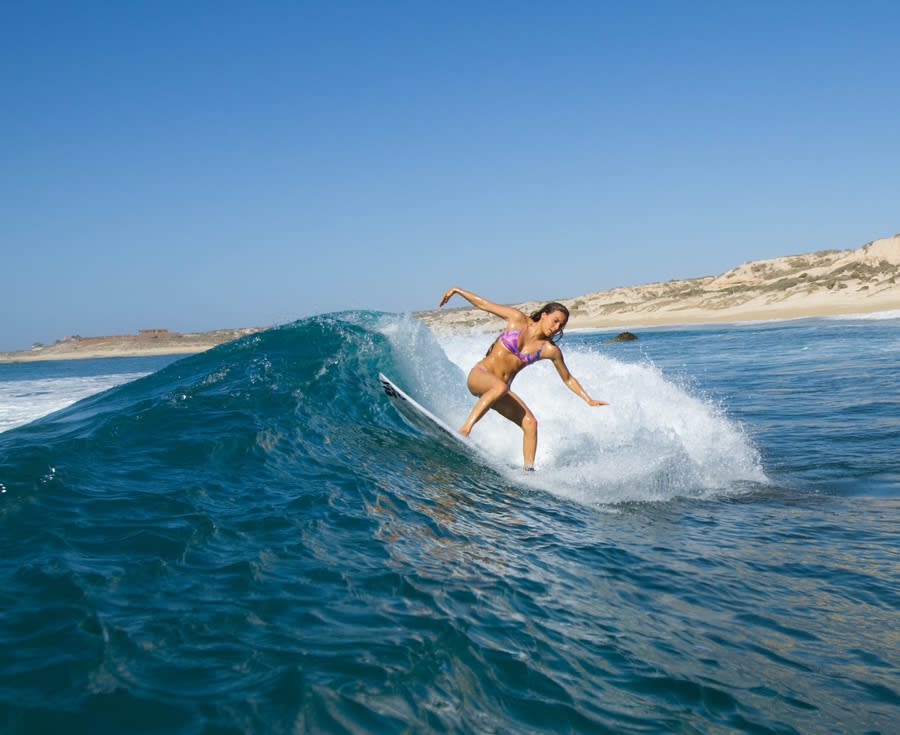 Los Cabos Open of Surf and Music festival
June 2, 2016
Los Cabos will be hosting another year of the Los Cabos Open of Surf from June 7th-12th, an event that is anticipated with excitement, both locally and internationally. Published courtesy of Destino Magazine The Los Cabos Surf Open multi-day event is one of Mexico's biggest surf festivals, and brings together some of the world's best surfers to the competition held…
Cabo Bucket List – How Cabo Are you?
October 5, 2015
The Cabo Bucket List by Blake Harrington October 5, 2015 You love Baja. You love Cabo. And, you understand and recognize how special this region of the world is! So here's the question for you frequent visitors and residents, how "Cabo" are you?!! How many of these activities can you check off the list? Ready, Set, GO! Walk under "El…
Relief Efforts Underway for Los Cabos in Hurricane Odile Aftermath
September 19, 2014
Late Sunday night, Hurricane Odile hit the southern tip of Baja California Sur and affected numerous cities, including Cabo San Lucas, La Paz, San Jose del Cabo, and Loreto. Labeled a Category 3 storm, Odile brought in 125 mph winds and heavy rain, making it the most powerful hurricane ever to strike the Baja California peninsula of Mexico. As a result, many of the luxury resorts of the popular tourist destination have suffered significant damage. While the hurricane has steadily weakened since its arrival on Sunday, parts of hotels and buildings have collapsed, phone and power lines have been knocked out, and roads have been flooded. Despite the damage, no deaths have been reported. Individuals behind the relief effort have remained diligent, and efforts to evacuate stranded tourists and restore affected areas continue.
Los Cabos Open of Surf Festival
July 9, 2014
This very popular multi-day surf festival, held at Zippers, Costa Azul, in San José del Cabo, is one of the biggest events of its kind in that brings together some of the world's best surfers in a competition that is sprinkled with live music; this makes for a really good, fun-filled time. This year, The Los Cabos Open of Surf,…
Cabo Marine Show Sails into its Fifth Year
May 1, 2014
Celebrating its five year anniversary, the Cabo Marine Show is scheduled for May 15, 16 and 17 at the IGY Marina Cabo San Lucas. The highly anticipated boat and marine product expo has shown great progress and growth in its first four years and has quickly become an important fixture of Mexico's robust nautical tourism, boating and yachting market. This…
Mexico Whale Watching Tips
February 28, 2014/p>
CABO ADVENTURES High speed inflatable boat. $85 USD for adults. $65 USD for children of at least 5 years old. Cabo San Lucas and San José del Cabo (624) 173-9500. www.cabo-adventures.com OCEAN RIDERS – Price per adult: $84 USD. Children 6 to 12: $60 USD. (998) 193-3360. info@dtraveller.com. www.oceanriders.com.mx BUCCANEER QUEEN Cabo San Lucas $45 USD Children (8-13) only $20…
A Whale Shark Adventure
February 15, 2014
Each winter, schools of the world's largest fish, the whale shark, return to the Sea of Cortez. These massive sharks pose no threat to humans – they are filter feeders, which suck in enormous amounts of plankton and small fish as food. Some of the most popular attractions in nearby La Paz are boat tours on which guests have the…
Todos Santos Music Festival
January 10, 2014
The Todos Santos Music Festival, created, founded and still spearheaded by REM guitarist, Peter Buck, takes place this January, 2014 over a two week period; From January 16-18 and the following week, January 22-25. The Todos Santos Music Fest is celebrating its third year with added local charities that will benefit once again from some talented musicians coming together in…
Bisbee Tournaments thrill anglers while delighting spectators
October 1, 2013
In a town where fishing tournaments are almost as common as chips and salsa, the Bisbee series does for sportfishing in Cabo what the America's Cup does for sailing. Held in Cabo San Lucas each October, the two back-to-back events draw eager crowds of curious spectators who gather along the marina walkways to shop, party and be part of the…