Los Cabos is known for many things, the most common being sunny weather, beautiful beaches and an exciting nightlife. In addition to these winning attributes, however, Cabo is also a golfer's paradise, often noted as Mexico's best golf destination.
In October 2014, Los Cabos golf king Jack Nicklaus' opened the Quivira Golf Club. While Nicklaus already owns five other golf courses in Cabo, this one is supposed to top anything he's ever done before.
A vast, 7,139 yard, 18-hole course, Quivira takes players into all types of terrain, from high rocky mountains to desert sand dunes. The beautiful course also includes views over pristine beaches and the Pacific ocean.
Be warned, however, that this course is not for beginners or the faint-hearted. The mountainous terrain is severe, and after the first few holes, a cart ride up rocky cliffs is required to reach the next stop.
The middle of the course involves many partial blind shots through sand dunes, as well as many elevated tee shots throughout the desert landscape.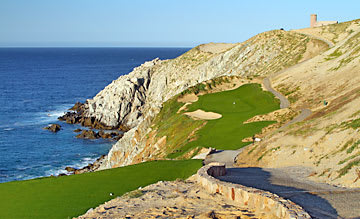 Views from Quivira Golf Club in Los Cabos
The course starts and ends, of course, at sea level, with the 18th green, clubhouse and driving range all running along the beach.
Playing at Quivira, however, comes at a steep price. The going rate is $295, and is all-inclusive, providing food and drinks served at three comfort stations throughout the course. Players may enjoy sliders, freshly prepared tacos and quesadillas and rounds of tequila and cocktails.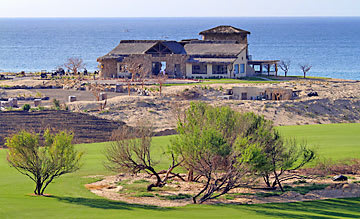 Clubhouse at Quivira Golf Club Los Cabos C/O: www.cabosbest.com
Quivira is also very exclusive, and is only accessible by guests of any of the four Pueblo Bonito Oceanfront Resorts and Spas in Los Cabos. Property owners of the Novaispania Residences or Copala and Montecristo Estates Luxury Villas are also welcome.
If you're a golf fan considering buying real estate in Cabo, or even looking for a place to retire, the Copala, Montecristo and Novaispania properties in Los Cabos are more than ideal options to look into.
Even if La Quivira and the Pueblo Bonito Resorts are outside of your price range, Los Cabos is an ideal vacation destination for all kinds of golf lovers. There are more golf courses than one has time to experience lining the Pacific Ocean and the Sea of Cortez, all boasting stunning waterfront and mountain range views.
Most of the courses are located in the Tourist Corridor, the area between San Jose del Cabo and Cabo San Lucas, to take advantage of the many cliffside ocean views, as well as the wide range of other natural beauty surrounding the Corridor area of Los Cabos.
If golfing is your thing, head for Los Cabos as soon as possible!