A fresh breezy sunset sail, cold drinks, cozy conversations, relaxing contemplation, fun beach days, the classic Mexican siesta, pool parties, dancing at night, swimming the beach clubs, snorkeling, diving, cruising, paddling, a water park, a pirate cruise, jet skiing, flying on water, it does not matter which activity you choose, the idea is to stay cool and refresh your spirit!
Baja is such a paradise that everyone who travels here either wants to stay forever, or leaves only so they can come back sooner. Summer in Cabo will be whatever you make of it, but one thing everyone hopes for is to BE COOL.
Cool Things To Do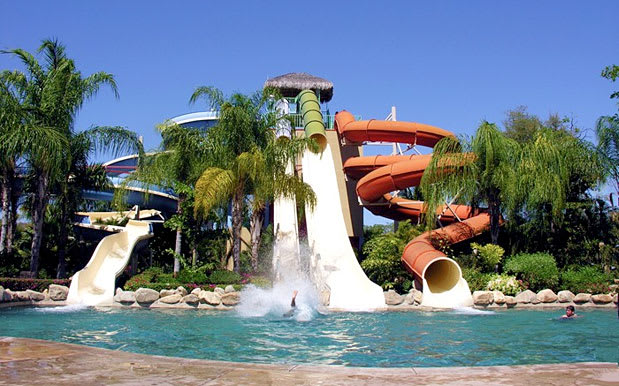 Wet Fun Water Park in Los Cabos – a great way to stay cool on a hot day. C/O http://www.cabovillas.com


Wet Fun Water Park has parks, pools, slides, and great green areas to walk and sit to eat and enjoy your family. You come here to relax and refresh the kids while creating memories that last a lifetime. It is open from 10:00 am to 6:00 pm Thursday-Sunday. Admission: 150 pesos for adults; 100 pesos for kids. Located just off the main Hwy at kilometre 66, between the airport at San Jose del Cabo and Los Barriles.
Take a Snorkeling tour. Swim and snorkel, experience the under-water-world of Nemo and enjoy a fun Coastal Cruise with friends. Pirates, love, kings, safari, National geographic, or private, choose your theme and sail the waters! Highly recommended tour during your magical visit to the East Capeor Loreto. In Los Cabos, you can also just drive to Chileno or Santa María beaches in the Corridor and snorkel on your own.
Swim with Dolphins. Always keep an eye while surfing the waters of Cabo, our Baja dolphins love to come join you. Los Cabos has two facilities where you and your kids can swim with trained Dolphins.
Have a breezy romantic ocean view cocktail. Los Cabos is an International World-Class Resort town. Regardless of where you are staying, all resorts have one-of-a-kind restaurants by the beach where you can enjoy a fresh organic drink. Water with a lemon twist will never feel as cool.
Cool Tips To Keep Your Cool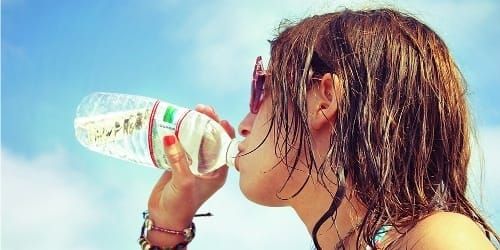 Getting hydrated is the easiest way to stay cool. C/O http://www.lifehacker.com.au
Hydrate! Drinking 8 oz. of water every hour gives you instant relief. (Drink more if working outdoors). Add some lemon, orange, cucumber, or mint to make it more refreshing. (Drinking too much water is not recommended for folks with heart, liver, or kidney issues).
Keep a small spray bottle filled with water handy to mist yourself a bit for instant cooling. Put it in the fridge when at home.
Just as cooling your neck and wrists during sleep works, it's the same during the day. Keep a cool, wet handkerchief or scarf on the back of your neck, which sends a cooling message to the rest of your body. You can also use one as a hair or headband. Running cold water on your wrists for 10 seconds gives you about an hour's worth of cooling.
Buy a portable, battery operated misting fan to carry around with you for an instant cooling sensation.
If outdoors in the heat, wet the sleeves only of a t-shirt and you won't believe how cooling that is when the breeze blows! You can also put water on your legs under long pants to cool your legs down. Women can sprinkle just the hem of a skirt with water for a cooling effect.
Sit in a cool water bath…you can even add ice…until you are sufficiently cold. After you get out, your body will remain cooled off for a significant amount of time.
Avoid alcohol, caffeine, or liquids containing high amounts of sugar. And avoid extremely cold liquids that can cause cramps. And it's a good idea to have bottles of Electrolyte on hand to replace lost sodium from sweating.
Freeze a bottle of water and grab it right before you leave your hotel room and you've got cold water to drink as it melts.
Cool Clothes….
Choose to wear loosely woven natural fabrics (cotton, silk, linen), instead of polyester or rayon. There are also "performance" fabrics to look for that wick away sweat from your body.
Choose light colours over dark. Lightly coloured clothing reflects light and heat, while dark fabrics absorb heat and stay warmer longer.
Learn from Middle Eastern desert dwellers, and cover up! Shading your skin is key, but definitely not necessary to wear shoes and socks, which raise the body's temperature.
Create your own shade…Wear a wide-brimmed hat.
Cooling Foods
Freeze just about any kind of fruit slices for a cool, quick snack.
Add refreshing mint to a number of things, like showering with peppermint soap, or including it in recipes, or drinking it in iced teas.
Slices of cool cucumber on your forehead and eyes feel fantastic on a hot day.
Eating spicy foods increases perspiration, which cools the body as it evaporates.
Avoid hot meals…eat more cold dishes.
GO AC FREE
This is a classic I saw for the first time when I moved to Baja: Put a metal bowl of salted ice in front of a fan, and adjust the fan so that the air is blowing over the ice. Or, use one or more 2 liter bottles and fill them mostly full of water (70%) and rock salt (10%). Leave 20% of the volume empty for expansion. The salt lowers the temperature at which the water freezes, allowing you to make the ice super cold. Freeze the liquid in the bottles, then place them in a large bowl, to catch dripping condensation. Position a fan to blow on them. As the salty ice in the bottles melts, the air around them cools and the fan will blow that air at you. The water and salt in the bottles can be refrozen every night and used repeatedly.
By Wendy Rains