Spring break is coming to an end, but that doesn't mean the fun in
Los Cabos
is! Every month the city offers a variety of activities and events to check out, and April is no exception.
With the first week of April comes Semana Santa, or "Mexican Spring Break" – the holy week that leads up to Easter. Outside Christmas, Easter is the most important holiday period of the year in Mexico. It's no surprise then, that the week is full of fun events to explore!
From cultural get-togethers and festivals to public religious observances and celebrations, it might be difficult to decide what to see and when! We've put together our top picks of what you should check out in April while visiting Los Cabos.
Thursday Night Art Walk in San Jose Del Cabo
The Thursday Night Art Walk in San Jose Del Cabo offers a variety of art work available for purchase.
℅ http://www.tripadvisor.com
While Los Cabos has three major art walks, this one has been around for 14 years. Every Thursday from 5 to 9 PM, both locals and visitors have the opportunity to peruse pottery, figurines, and paintings from all kinds of talented artists.
Admission is free – why not check out one of Los Cabos' oldest art walks?
Paws and Claws Open Golf Tournament and Dinner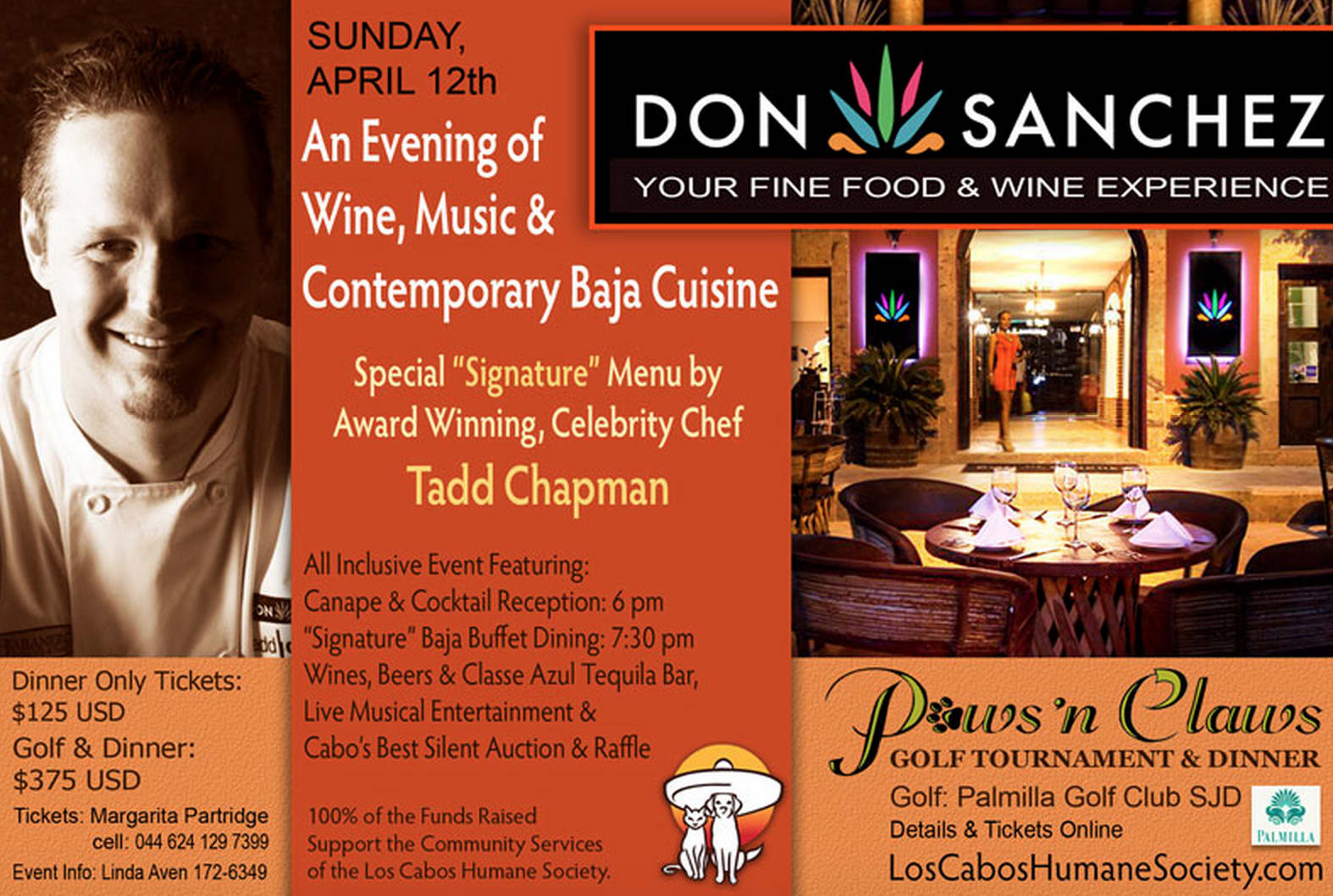 The Paws and Claws event will feature cuisine from the Don Sanchez restaurant, a Los Cabos favorite. ℅ http://www.loscaboshumanesociety.com
The 10th annual Paws and Claws event is taking place on April 12th and will pair two favorite local activities: golf and fine dining. The event acts as a fundraiser for the Los Cabos Humane Society.
The golf tournament will be taking place at the Jack-Nicklaus designed Ocean and Mountain courses at the Palmilla Golf Club, and raffles and prizes will be given away.
The evening will feature a cocktail reception and dinner provided by the Don Sanchez restaurant with a "signature menu" created especially for the event.
Check out the Los Cabos Humane Society
website

now to get your hands on tickets before they sell out!
Gastrovino Food and Wine Festival

This year's Gastrovino Wine and Food Festival will be held at the end of April.
℅ http://www.gastrovino.mx/fest/


Although typically held in May, this year's Gastrovino Food and Wine Festival will take place from April 24th to April 26th. The event will be located in Todos Santos, just an hour north of Cabo San Lucas.
Organized by local retail shop La Bodega de Todos Todos, the festival is a celebration of local culture and cuisine – a favorite for both tourists and locals alike. This year, the festival's highlights include a pairing dinner hosted by the historic Hotel California, a hiking and culinary tour, and the main food and wine extravaganza with live music and a silent auction to benefit local programs for children.